Since the establishment of GETshow in 2011, it has successfully held 9 exhibitions. With the continuous development of GETshow and the international level keep improving; it has gradually developed into one of the most influential professional lighting and sound exhibitions in Asia. With the first ten-year milestone coming, GETshow's growth is inseparable from everyone's support and help along the way.
The 10th GETshow will be held in Pazhou Poly World Trade Center Expo in Guangzhou in Feb.16th to 19th, 2020! In order to express our gratitude towards the industry companies and exhibitor friends for their support, we plan to hold a "Welcome Banquet for the 10th Anniversary of GETshow 2020" at the Chimelong International Convention Center on February 15th, to build a solid government-enterprise communication bridge for industry companies and provide a platform for communication and networking. We'll invite local government leaders, business association executives, industry experts, leading enterprises, engineering contractors, agents, and well-known media friends to gather together to join the industry event and seek the future prosperity of the industry!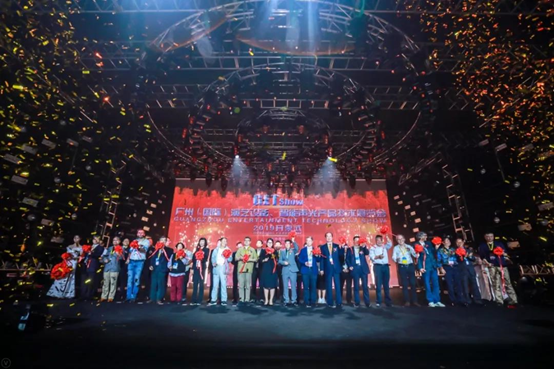 Dinner time: February 15, 2020
Venue: Panyu Chimelong Hotel International Convention Center, Guangzhou
Attendees: government leaders, senior executives of business associations, industry experts, representatives of member companies, engineering contractors, agents, industry media reporters, etc.
Objectives: 1. To build a solid communication bridge between government and enterprises and promote the vigorous development of the entertainment equipment industry;
2. Provide a platform for guests to communicate with each other and share resources.
Sponsorship: cash sponsorship, while the industry association (SCEE) will provide corresponding feedback services.
1. Sponsorship amount: RMB 30,000
2. Sponsorship amount: RMB 20,000
3. Sponsorship amount: RMB 10,000
Feedback service:
Feedback Service Items

Service Content (mark "√")

RMB30000

RMB20000

RMB10000

Field Service

Scrolling thanks on the LED screen at the party for more than 3 times

√

√

√

Acknowledgements on the on-site display board

√

√

√

Being thanked twice by the host on site.

√

-

-

Company name showed at the bottom of the program list

√

-

-

Publicity Service

Thanks pushed by GETshow WeChat public account

√

√

√

Enterprises can provide soft text publicity materials(push completed within one year), and we'll release to the network and WeChat public account after review

12 articles

6 articles

3 articles

Make a year-round friendship link on GETshow official website homepage

√

√

-

Brand logo displayed on the flat display board of GETshow2020

√

√

√

Offline Services

Issue related honorary certificates

√

√

√
Person in charge of investment promotion::
Ms. Luo 15915717974
Ms. Li 15622774880
Mr. Ye 13160851605