Chengdu International Music (Performing Arts) Facilities and Equipment Expo 2018
It's half a month to go!
Are you all ready for the exhibitors?
In order to enable the majority of exhibitors to complete the exhibition, smooth participation!
Xiaobian specially prepared "2008 Exhibition Treasure Book"!
Exhibitor announces arrival
Exhibitors'registration, processing of exhibition certificates and vehicle entry and exit passes for exhibitors' products
Front Office Certification Center of Pavilion 16 of West China International Expo City
Exit and withdrawal Office丨
Gate 5 Refund Office (15-16 opposite Guangzhou Road Interchange)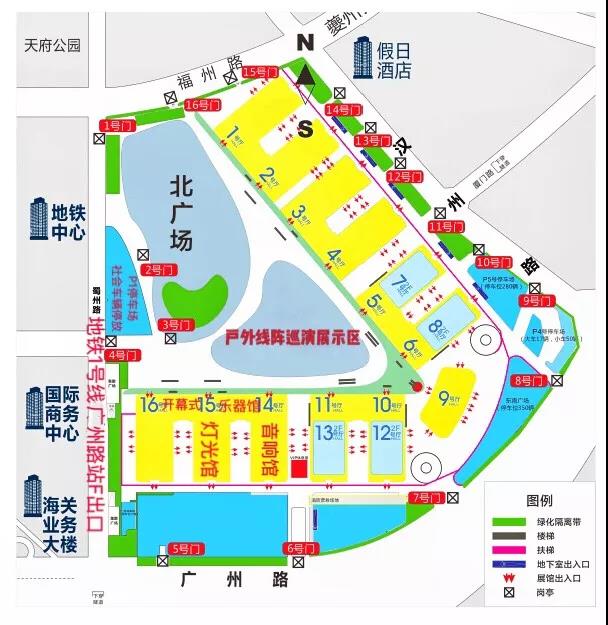 Be careful:
1. Exhibitors can enter the exhibition with their company business cards without additional construction certificates, while builders entrusted by exhibitors need to enter the exhibition with construction certificates, which should be applied by the builders themselves to the home builders (Tianma) without the need for exhibitors to handle;
2. According to the regulations of the exhibition hall of the West China International Expo City, the trucks entering and leaving the exhibition hall are managed by the Logistics (Chengdu) Co., Ltd. of the Longitudinal Exhibition. When handling the license, please provide the vehicle driving license (photo is acceptable). The price of the original certificate is 50 yuan per certificate. The Organizing Committee strives to provide the exhibitors free of charge (excluding the construction vehicles of the builders), but they need to pay a deposit of 200 yuan per vehicle for the certificate. The time is counted from Gate 7 of the exhibition hall. The goods are discharged for 2 hours free of charge, and the overtime fee is charged at 50 yuan per hour for the overtime. Exhibitors are requested to open the vehicle to Gate 5 for refund in time after the unloading of the vehicle is completed.
Check-in time, exhibition time and withdrawal time
Check in and show time丨
Special booth:September 11-12 8:30-18:00
September 13, 8:30-20:00
Standard booth:September 13, 8:30-20:00
Withdrawal time丨
Special booth:September 16:00-23:00
Standard booth:September 16:00-23:00
Exhibits Entrance Route
Route description丨
1. Entry by Exhibitor's Product Vehicle License at Gate 7 of the Exhibition Hall
4. Drive to No. 14 and No. 15 Hall unloading area
5. After discharging the cargo, drive to Gate 5 (15-16 opposite Guangzhou Road Interchange) to go through the refund formalities.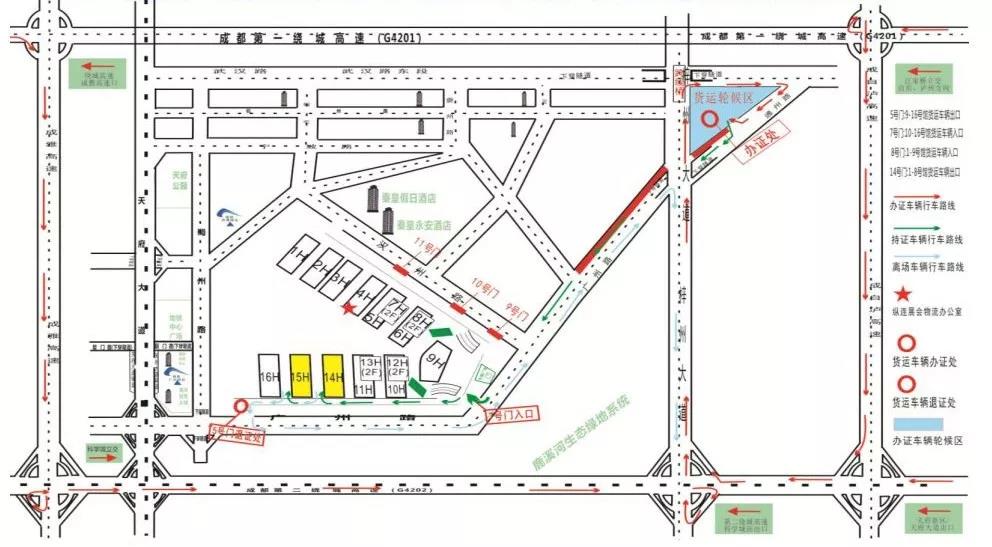 * If you have any questions about the route, please contact: Liaison Exhibition Logistics (Chengdu) Co., Ltd. (Official Logistics of Xibo City Exhibition Hall) Mr. Xiong 181-1788-5600
* All the evacuated freight vehicles are queued up in turn for the arrival of the permit exchange according to the traffic route planning.
* All arriving freight vehicles must be under the command of the traffic police and traffic coordinator at the scene.
Booth safety
Please pay more attention to the safety of exhibition booths. Please take care of valuable exhibits and personal items. If you have any information, please contact the security personnel at the scene.